EU Steering Committee
Members of the European steering committee are being informed about project activities, comment on the main outputs developed, with a focus on the Codes of Conduct and meet to discuss the strategic direction of the project.
The first meeting of the European steering committee in Berlin on 10 October 2013...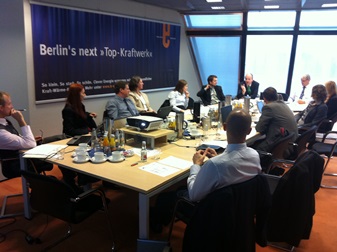 The Transparense EU Steering Committee consists of the representatives of the following institutions:
eu.ESCO
EFIEES
FEDENE
IEA DSM Task XVI c/o Energetic Solutions
The European PPP Expertise Centre (EPEC)/EIB
Transparense project team
More info: Johan Coolen at Factor4 (johan.coolen@factor4.be), member of the European Steering Committee of the Code of Conduct, and Damir Staničić (damir.stanicic@ijs.si) at Slovenian Jozef Stefan Institute, coordinator the Transparense Work Package 4 on Code of Conduct.